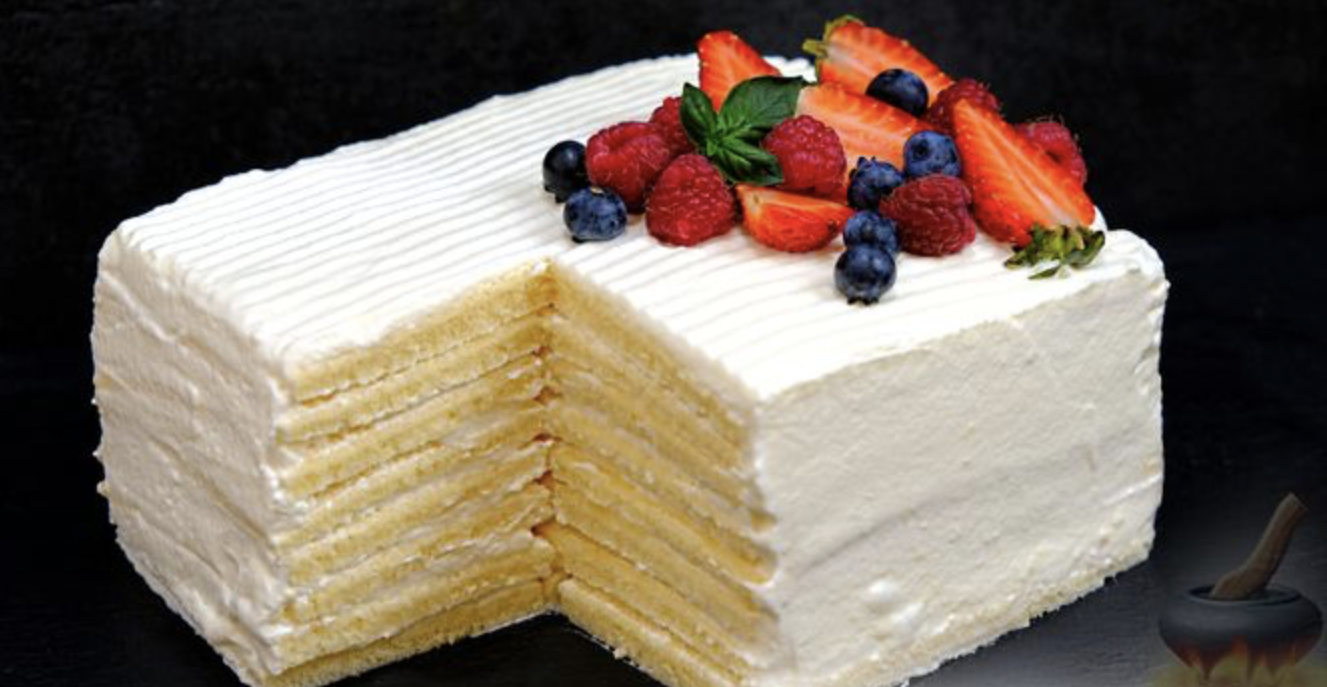 "Milk Girl" Cake
Unusually delicate and delicious cake "Milk Girl" is prepared very quickly and easily. This recipe will not take you much time and effort, but the result will satisfy everyone. Delicate, soft cakes over condensed milk combined with a whipped cream and condensed milk cream that tastes like creamy ice cream. This cake is impossible to resist!
cake ingredients
For cakes:
Condensed milk – 300 g
Eggs – 3 pieces. (total weight with shell – 195 g)
Salt – 1 pinch
Wheat flour – 180 g
Baking powder – 10 g
Butter – for coating parchment or silicone mattress
*
For the cream:
Cream 33% – 500 g
Condensed milk – 80 g
Vanilla sugar – 10 g
*
For decoration:
Fresh berries – to taste
Easy cake recipe step by step
1. Prepare the dough.
Beat the eggs with a pinch of salt with a mixer for 3-4 minutes, until fluffy.
While stirring, gradually add the condensed milk.
2. Mix the flour with the baking powder, knead and add to the egg mass piece by piece, mixing it with a mixer.
3. Preheat the oven to 180 degrees.
Place a baking dish (mine is 30 x 40 cm) with baking paper or a silicone mat and grease it with a little butter. Put half of the dough (330-340 g) in the mold and spread in an even thin layer. Bake the cake at 180 degrees for 6-7 minutes until it is baked. Bake the second cake in the same way.
4. Cut the edges of the cakes. Separate the cakes from the parchment or silicone mats and refrigerate.
5. For the cream, whip the cold cream with the vanilla sugar. Add the condensed milk to the whipped cream in a thin stream, beating over medium-speed mixer.
6. Divide the cooled cakes into 4 parts each.
At the bottom of the dish we place a little cream so that the cake holds well.
Collect the cake, spreading each cake with 1-2 tablespoons. spoons of cream. Coat the top and sides of the cake with the cream brush.
Place the cake in the refrigerator for 2 hours.
6. Decorate the cake as desired (I decorated it with berries).
spring
Easy and quick cake recipe for beginners with video
& t = 4 s