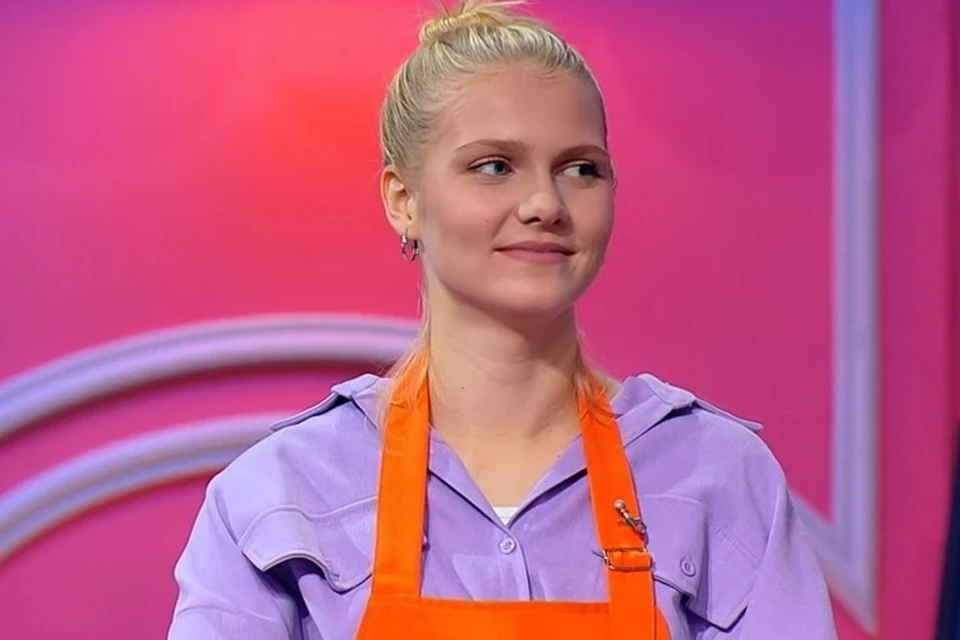 Varvara Parshikova represented the category of teenagers
Started cooking in second grade
On June 7, the Pyatnitsa TV channel aired a broadcast of the kitchen show "Pastry. Children", starring our compatriot Varvara Parshikova, a 15-year-old from Zheleznogorsk representing the category of teenagers.
"Kurskaya Pravda" talked to a young pastry chef. According to Varvara, she started cooking in the second grade. The girl always liked cooking, but woke up with a special love for the art of sweets. He has learned this craft himself and has been making custom cakes for a year and a half.
"In general, I like cooking, but sweets for me now are just paradise," says Varvara. It allows me to take a break from studying and helps me relax.
Most of the recipes that the student makes herself, she also often takes the ones already tried and changes them according to her taste.
Participation in the show
In "Pastry. Children" Varvara brought her cake with lavender and black currant, which she called "Provence".
– There are many variations of lavender cake online, but I thought lavender goes well with raisins. Many recipes use blueberries, but I consider them "dead berries" because they are tasteless as a filling for cakes. I also thought the familiar cream cheese is banal and decided to make a white chocolate cream. As a result, this cake became a bestseller. It is ordered more often, – says the young pastry chef.
The work of the girl was also praised by the hosts of the show Renat Agzamov and Olga Vashurina. They noted that Varya is one of those rare participants who were able to make a lavender-scented shampoo cake, and black currant favorably removes lavender. Confectioners also appreciated the design of the cake.
In the finale, participants had to repeat Renat Agzamov's cake, covered in chocolate yellow velor, decorated with sweet giant robots and small details. The boys prepared the filling to their liking. Varvara made the Black Forest chocolate cake, known in Russia as the Black Forest. This is a popular recipe for chicken.
The requirements for project participants were the same as for adult professional confectioners, with no omissions for a young age. However, the film crew said the boys' work is much better than in many adult publications, Varvara admits.
The filming lasted 12 hours, during which participants kneaded, mixed, baked and decorated. However, for Varvara, this is the standard cooking time – at least 10-12 hours.
"I'm happy to go next season"
Unfortunately, our compatriot did not reach the superfinals, but her product pleased the jury.
"I think I did well. Yes, of course, it could have been done better somewhere. But in fact, I could never have imagined that I could make a cake in such a short time, even with such a complex decor. I have never worked with mastic, says Varya.
A friendly atmosphere reigned in the project, the girl admits that she will gladly go to next season if the opportunity arises.
– Unfortunately, the time was not enough and we only managed to talk a little with the presenters. I was extremely happy to meet such people. Renat and Olga are just wonderful and positive people. The atmosphere was nice, the film crew were just great guys supporting us in such a stressful situation. We had a great time with the participating boys, we talked a lot, we had fun, we shared experiences. The atmosphere in the kitchen was incredibly friendly, we helped each other. Nastya (winner of this issue – ed. Note) and I worked together, helping each other as much as we could. Sure, there was competition, but it was no shame for me to lose to Nastya. I consider her a strong confectioner (she was trained). We communicate with many boys even after attending. Above all, I was pleased when Renat called me near the dressing room and told me that I was a great friend and I needed to develop further, – the girl shares her emotions.
Of course, Varya plans to grow into the confectionery business. For example, six months ago, she started making PP cakes (proper nutrition – note red.). They can be eaten by those who simply follow the figure and people suffering from diabetes.
"I want everyone to be able to afford a small party in the shape of a cake," the girl says.
Varvara also wants to take courses and learn many techniques. And in the future, she dreams of opening a small confectionery shop, working there, enjoying the confectionery business. However, our interlocutor intends to connect her fate not with cooking, but with public service.
.